Conference Preparation FAQ
These are responses to some of the common questions we've received. If you can't find your answer here, ask your question on Slack or by email. 
Contents
Official countdown of dates on the Deadlines page.
Video submission deadline : 26 March 2021 (for all contributors; posters/spotlights/orals)
Poster submission deadline: 26 March 2021 (for all contributors; posters/spotlights/orals)
Thumbnail upload deadline: 26 March 2021
Register before the conference: 6 May 2021
---
I think I'll miss the video upload deadline.
While we know creating videos and posters is a significant amount of work and that there are many other things affecting everyone's ability to create content right now, we cannot offer extensions, and we will not be able to support papers that don't have videos uploaded by the deadline. Please note that all accepted papers must submit videos and posters by the submission deadline to be included in the conference proceedings.
I want to record a video with multiple people. How can I do this?
Have each presenter record their part, upload to cloud and do not submit as final version. Add a postproduction note that there will be more parts coming in.The person recording as the very last should submit it as Final version - that way our editors will get a notice that it is ready for editing. Send a note to SlidesLive by email to let them know you have multiple version.
How many videos/poster thumbnails do I need to upload?
For each accepted paper you have to upload exactly one video and one thumbnail. The video length depends on the type of the accepted presentation (i.e., 5 minutes if you paper was accepted as Poster, 10 minutes for Spotlights, and 15 minutes for Orals). The thumbnail upload instructions are the same for all accepted papers, independent of type.
How can I get help from SlidesLive?
If you have any questions, get in touch with the SlidesLive team on Slack using #slideslive, or by email using iclr2021 -@- slideslive.com
What are instructions for preparing posters and paper thumbnails?
Posters are used as an image to be used during the poster session using the interactive environment (e.g., using GatherTown).
Please prepare a poster in any size (like A0).
Landscape format.
Instructions for uploading your posters can be found on the wiki.
Upload here: https://iclr.cc/Conferences/2021/PosterUpload (you will need to login first, using your iclr.cc account)
What is a Thumbnail and what does it look like?
A thumbnai is a figure that is used on the conference site as a way of visually representing your paper. l should highlight a visually appealing figure in your papers. If you don't have any figures, you can create any other figure that you think is appropriate. This image should be less than 1Mb. For papers that don't submit a thumbnail, we'll use the ICLR logo as a paceholder.  An example thumbnail is shown in red.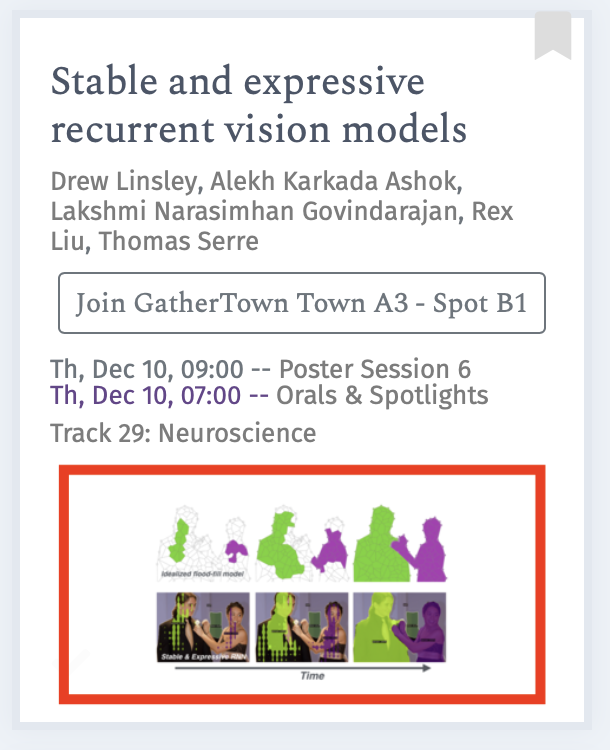 ---
The camera ready paper must be submitted on Open Review. Author order can change, but adding or removing authors is not permitted. The camera ready submission can be up to 9 pages long, which includes acknowledgements but excludes references.
The slack invite has expired. Can you share a new one with me?
We will send a new slack invite in our next reminder email. Respectful communication and collaboration is expected on this workspace, and the ICLR Code of Conduct and Code of Ethics applies.
Slack Channel
For questions/discussion about
camera-ready papers, please use #camera-ready
recordings/uploads, please use #slideslive
session-slot allocations, please use #sessions-planning
workshops, please use #workshops
---
I've missed some of the workshop checkin sessions and have a question?
See the Workshop FAQ
Ask questions on #workshops channel on slack.
If you have any other questions, please ask us on #general in slack or by email at virtual -at-iclr.cc.