Author Instructions for Virtual ICLR2020
Quick Summary: Authors of accepted papers should record videos of your talk using the recorder tool by 8 April 2020. Also sign up for two poster sessions here.
ICLR2020 will be hosted as a fully virtual conference this year. Your participation is central to the success of this type of a conference, and we are looking forward to working with you to make this experiment as successful, enjoyable, and valuable as we can.  This message has details of the virtual conference format, and instructions on initial tasks we need you to complete.
Conference Format
The full conference format is a mix of pre-recorded and asynchronous engagement, and live engagement through Q&A and in-person video calls. Full details of the conference format can be seen on our blog post. This format will allow everyone to take advantage of the virtual and distributed nature of a virtual conference, allow accessibility across many different time zones, and still allows meaningful in-person engagement. Make sure to read through the detailed FAQ, which contains other important aspects of the conference you should be aware of.  This will only be successful with your support, and we look forward to your participation during the week.
Video Recordings
Start preparing slides and a video that you will upload to our servers. These videos will become part of the permanent record of the conference and will be linked to your paper on open-review, as well as the conference website.
General Instructions:
If your paper was accepted as a

spotlight

 or a poster, please upload a 5 minute video.

If your paper was accepted as a long-talk, please record a

1

5

 minute video.

This video takes the place of what you would use at an in-person poster session. Make sure it is well structured and easy to understand.

You do not need to make a poster. Use slides that help you communicate your work in the most accessible way and in the time allocated. You can also explore using other ways of creating slides.

You will need to upload the slides or share a link to them, so use only formats that can easily be shared. A PDF of your slides, link to a cloud-based presentation that is widely accessible (e.g., Google Slides, Dropbox paper, prezi), or interactive web-pages.

Submit your videos by 8 April 2020 (AOE, anywhere on earth).
Recording your video:
You

must

 r

ecord your video using the

SlidesLive Recorder

, which is a tool from our video partner. Using this tool your videos will appear alongside the slides; for examples, see

slidelive library

.

You will soon receive a

unique invitation

email from SlidesLive to record your presentation that is associated with your paperID. Please check your spam if this doesn't arrive by

 Monday 30 March. Whitelist @slideslive.com,

Monika Mleckova <monika@slideslive.com>

 and @iclr.cc in your spam filter, if possible. If you have not recieved your link yet, please email 

Monika Mleckova <monika@slideslive.com>.

We will have a set of volunteers to review your video. We may ask you to upload a new video if

it exceeds the time limits

, or has quality issues.
Live Poster Sessions and Q&A
There will be two ways people can interact with you and your work during the conference week.
Live sessions:
There will be 5 poster sessions that last for 2 hours each day at 2pm in UTC+8, UTC+5, UTC+1, UTC-4, UTC-7 (indicated in yellow in the figure below) during which you are asked to participate in a live session.

With this structure you should find several poster sessions (at least 3 a day), other than the one you are participating in,  that overlap reasonably within your hours. We encourage you to explore and meet other poster presenters during these other sessions as well.

You should

sign-up for 2 poster sessions

 using

this

signup form

. Please use your openreview forum ID instead of your name (where it asks). You can find by your forum ID by looking in the url of your paper on openreview, e.g., for '/forum?id=Syx4wnEtvH' use Syx4wnEtvH

We may need to make some adjustments to these session choices to balance the conference, and will do our best to satisfy your choice.

You need to pick a slot by 8  April

. Anyone who hasn't picked a slot by this time will be allocated slots randomly.
Table | Main poster times each day meant for 1pm in 5 time zones.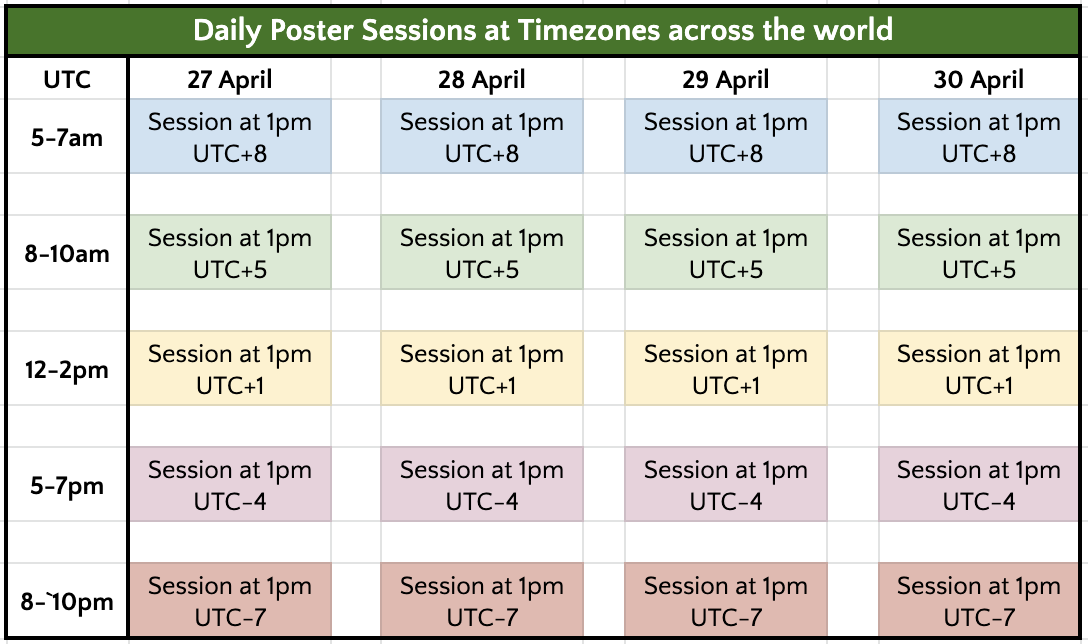 Asynchronous interaction
Every paper will have a discussion/chat function that can be used for interaction through text.

You can respond to questions when you are available and use this as a way to have conversations about your work throughout the week. You are not required to answer all questions. However, we expect you to answer a minimum of 3 questions, and encourage you to participate in all discussions. These discussions are non-archival.

We will encourage further discussion on the forum for your paper on OpenReview. This facilitates asking questions and providing answers that are archival. You will be encouraged to post answers here to questions you believe help clarify your work, so that these useful discussions can benefit the wider community.
TODOs Summary